Garbage and Recycling
Blue Boxes and Garbage bags are collected weekly, on the same day each week. The garbage collection is done through a bag tag system. There is a weight restriction of 20kg (44lbs) per bag. The Blue Box collection is done through a two-box system. The two-box system alternates collection between material types every other week. Please have garbage bags and blue boxes to the curb before 7 am on your designated collection day, as collection can occur between the hours of 7 am and 5 pm.
The Annual Waste Management Calendar includes a collection route map determining the day of the week your garbage will be collected, and includes the collection calendar indicating the Blue Box material that is to be collected each week.
Click here for the printable version of the 2023 Collection Calendar.
Click here to have a print version of the 2023 Collection Calendar mailed to you.
Please contact Miller Waste Systems Inc. (Miller) directly regarding missed collections or service complaints: 519-668-0072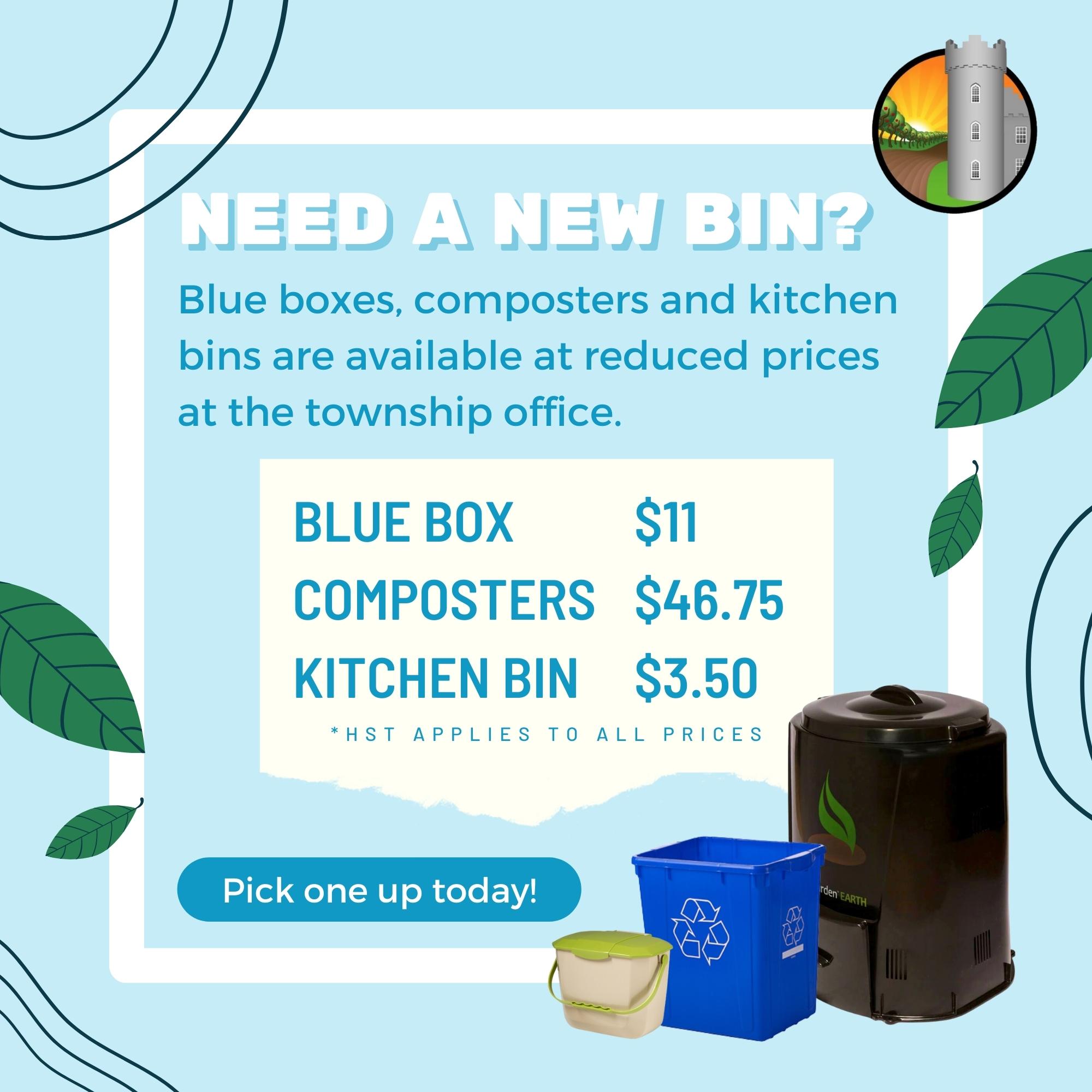 Blue Box Separation - Alternating Pickup
There is no weekly blue box limit, blue boxes recyclables must be separated into two categories; Containers and Paper Products. The Township offers blue boxes for $11 + HST, available at the Township Office.
Please consult the Annual Waste Management Calendar for the scheduled Blue Box collection.
WEEK 1: Container Blue Box (Calendar BLUE weeks)
Aerosol cans (empty)
Cartons, drink boxes, spiral wound cardboard cans, ice cream tubs, and paper cups (separate lids)
Glass bottles and jars (separate lids)
Plastic bottles, tubs, jugs, clamshell containers, and clear rigid packaging
Steel and aluminum cans, foil, and pie plates
WEEK 2: Paper Product Blue Box (Calendar WHITE weeks)
Cardboard boxes, egg cartons, tubs, and drink trays (flattened)
Household paper and envelopes
Magazines, catalogues, soft and hard cover books (remove hard covers)
Newspapers and flyers
Do you ever wonder where your recyclables go and what happens to them after leaving your door? Click on this educational video link of the local processing plant, the MRF, to find out.
Extended Producer Responsibility
Starting on July 1st, 2023 the Blue Box transition to extended producer responsibility will be in effect.
Circular Materials Ontario (CMO) will be responsible for operating the new system for blue box materials across Ontario. Malahide has an agreement in place with CMO to be able to continue to provide residents recycling services through the current contract with Miller Waste.
During the transition there will be no changes to the materials you can recycle or the frequency of collection.
Please continue directing any questions about recycling collection to Miller Waste by phone, 519-668-0072.
For more information on the transition to extended producer responsibility, please visit www.circularmaterials.ca.
Community Depots
Township of Malahide residents have access to several community depots for waste materials.
St. Thomas Community Recycling Centre
330 South Edgeware Road, St. Thomas, Ontario. Phone: 519-631-1680, ext. 4258.
Please visit the City of St. Thomas website for hours of operation, fees, and acceptable Material.
Tires
Aylmer Tire will accept four (4) tires from each residence per week. If you have a large number of tires, or wish to confirm space at the depot prior to dropping off your tires, please contact Aylmer Tire at 519-773-3141. 49703 Talbot Line – (572 Talbot St. East)
Battery Recycling
Bring old batteries to the Township Office or the Malahide Community Place during regular business hours.
This program includes rechargeable batteries and regular batteries - AA, AAA, C, D, 9-volt batteries.
The Township Office also accepts old cellphones.
There is no cost for this program, batteries and cellphones are recycled in an environmentally responsible manner.
Additional Locations
Composting
The Township offers backyard composters for $46.75 +HST and kitchen catchers for $3.50 + HST, available at the Township Office. Putting garden and kitchen material in a compost bin removes these materials from curbside waste collection and saves landfill space. A good composting technique is to build a compost pile in layers of 'greens' and 'browns'.
"Greens" - Nitrogen Rich Materials
Kitchen scraps including vegetables and fruit scraps, crushed egg shells, tea bags, coffee grounds with filters and paper towels
Garden and yard materials
Grass clippings - or leave this natural fertilizer on the lawn
"Browns" - Carbon Rich Materials
Dry leaves
Bread, pasta and rice
Sawdust and shavings
Finely ground wood chips
Well shredded paper
Shredded egg cartons and cardboard
Items that cannot go into the Composter:
Pet manure or litter
Weeds that have gone to seed
Any diseased plants
Meat, fish, fowl or the bones
Fats or oils, dairy products, eggs, peanut butter, and salad dressings
Ash, sawdust or shavings from chemically treated or painted wood
Garbage Bag tags
There is no weekly garbage bag limit, each bag must be tagged with a current bag tag and weigh no more than 20kg (44lbs).
Bag tags can be purchased at the Township Office, for $1.50 each. Eligible properties receive an annual bag tag package (60 per year).
Annual bag tag package
Property owners will be mailed a package prior to the beginning of the next year.
Property owners are responsible to distribute bag tags to their tenants, and to transfer bag tags to new owners if a property is sold.
Property owners of vacant farmland who have a valid accredited farm organization membership or farm business registration number may pick up an annual bag tag package subject to paying the annual fee.
Mobile home owners within the Lyons Mobile Home Park and/or the Hacienda Road Mobile Home Park may pick up an annual bag tag package subject to paying the annual fee.
Waste Management Master Plan
The Waste Management Master Plan sets goals and guides strategies for sustainable services.
Yard Waste Collection
The leaf and yard waste collection takes place for 4 weeks in the spring and fall of each year. The collection is only available to the residents of Springfield, Port Bruce, Copenhagen, and Lyons.
Please refer to the calendar included in the Annual Waste Management Calendar for the collection schedule.
There is no limit to the amount of leaf and yard waste that can be set out.
Acceptable materials include: leaves, sticks, garden plants, yard and garden trimmings.
The material must be set out in paper bags which weigh less than 22 kilograms (44 pounds) or bundled in lengths not greater than 1.2 meters (4 feet).
This collection is not for waste items from farming, commercial, or industrial operations.